Ski Chalet Holidays 2019 - 2020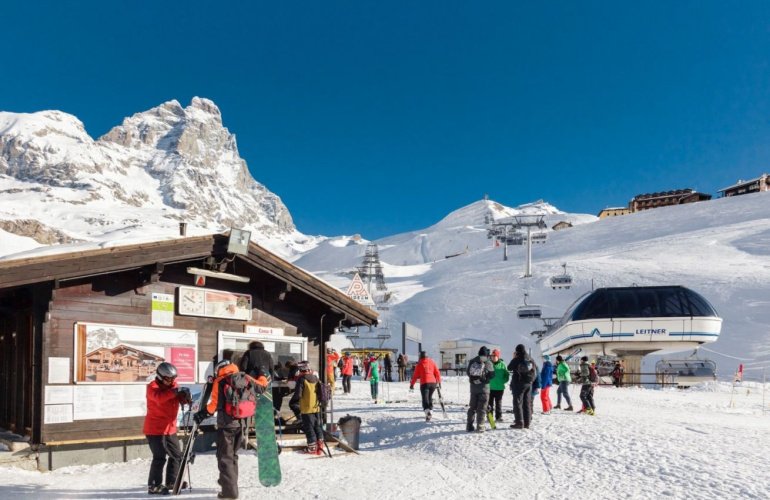 The winter season is almost upon us and now is the time to start booking your ski chalet holidays for 2019 and 2020. And what better place to visit, than Cervinia; a town full of some of the best ski resorts in the Italian Alps and home to the infamous Matterhorn mountain which stands high and overlooks the valleys.
The Matterhorn is one of the most beautifully unique mountains in the Alps. Located across the border of Switzerland and Italy, its height reaches a majestic 4,478m and its shape and isolated position make it a truly breathtaking sight for climbers and passionate hikers and is known amongst its countless loyal tourists as "the mountain par excellence".



Matterhorn Mountain

An infinite white space that starts at 1,524 m in Valtournenche, which embraces Breuil-Cervinia rises to 3,480 of the Plateau Rosa, nearly 4,000 at the Piccolo Cervino, ascends up to 4,478 on the summit of the Matterhorn and continues over the Alpine side of Switzerland to Zermatt.

The Cervino area is one of the very few ski resorts able to guarantee all year round skiing, on a completely natural blanket of snow thanks to the Plateau Rosa glacier.

A location ideal for lovers of nature and sport, who enjoy immersing themselves in the adrenaline on the slopes, to unwind in the local wellness areas or partake in an apreski in one of the various traditional bars, enjoying the local gastronomy that has tourists coming back year after year.
Feeling inspired to visit Cervinia this winter? Click on the link below to view our entire property portfolio