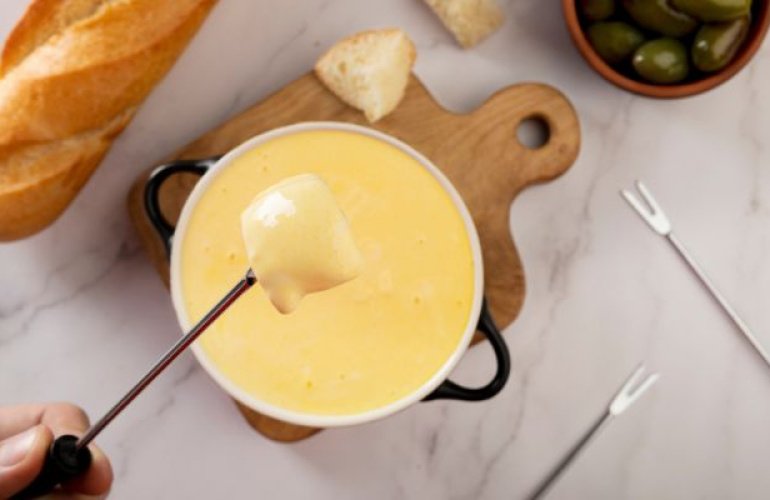 Going on holiday in the Aosta Valley is not just about skiing, snow, relaxation, and fun- it is also about excellent cuisine and unique flavors… let's discover Valdostana Fontina Fonduta!
Recipes and advice for enjoying a perfect valdostana fontina fonduta
What is fontina fonduta?
Valdostana fontina fonduta is a very simple dish made up of melted cheeses served in a particular pot called a caquelon, where the diners directly draw the cheese with a ladle.



The foundation of the Valdostana fonduta is undoubtedly fontina, one of the 26 best kinds of cheese in the world! To make a perfect Valdostana Fontina Fonduta, Gruyère, Cheddar, Camembert, and Emmental are generally added, but the combinations can be multiple based on tastes and the region.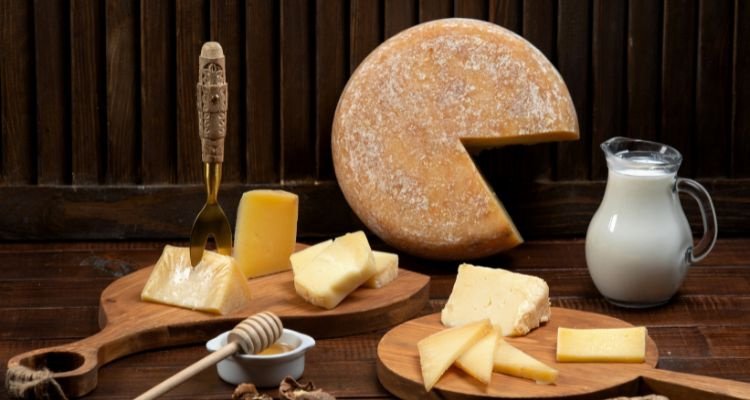 What goes with the fontina fonduta?
Fontina fonduta is a versatile dish and depending on the foods it is paired with, it can become an impressive appetizer, main course, or even a complete meal.

It is served in the typical caquelon and placed on a small stove which ensures the perfect temperature throughout the meal. The alternative to the caquelon is ceramic terrines which keep the heat longer.
Fontina fonduta is generally served with:


Bread


It is the most classic food to accompany fontina fonduta and the ideal is to cut the bread into cubes. You can choose to use a single type of bread or serve different types.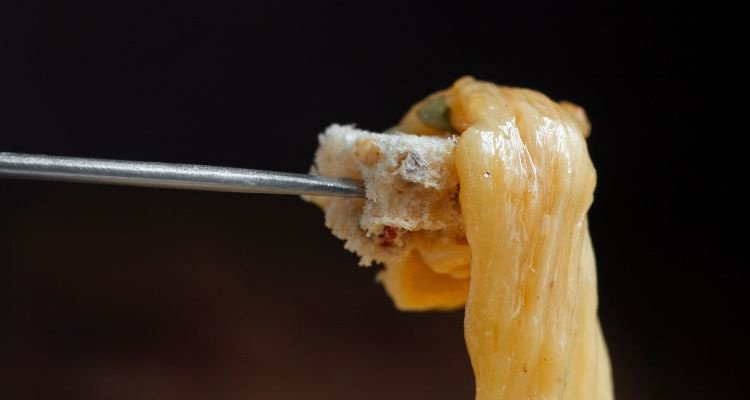 Potatoes


This is also a good accompaniment for fontina fonduta. Take small potatoes to cut and serve them with the skin which enhances the taste of the cheese.

Pickled vegetables


They facilitate digestion and cleanse the mouth. The classics such as carrots, onions, or celery are the most used, but any other type of vegetable is an excellent alternative.
Dried fruit


It is a highly sought-after combination that goes very well with fontina fonduta. Be careful not to immerse the dried fruit in the pot but instead serve it in small cones or small bowls on which to pour the fontina fonduta.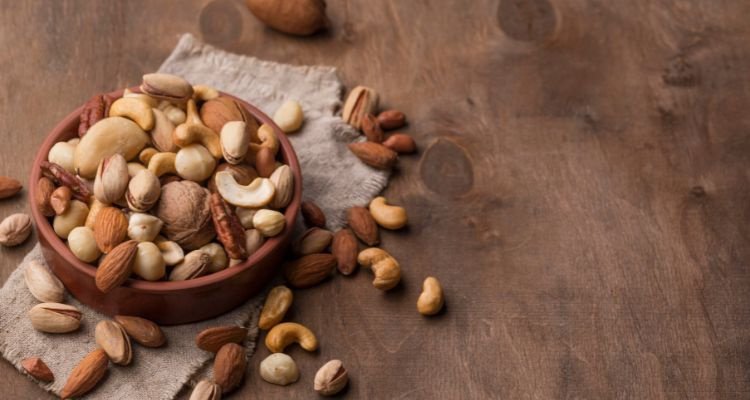 Steamed vegetables


A widely used combination, but the vegetables must not be too soft, so it is preferable to roast them rather than boil them.
The wine to pair with fontina fonduta must be red and with a good structure. Pinot Noir is a very interesting combination but also Merlot, Chardonnay, or Cabernet Sauvignon is fine.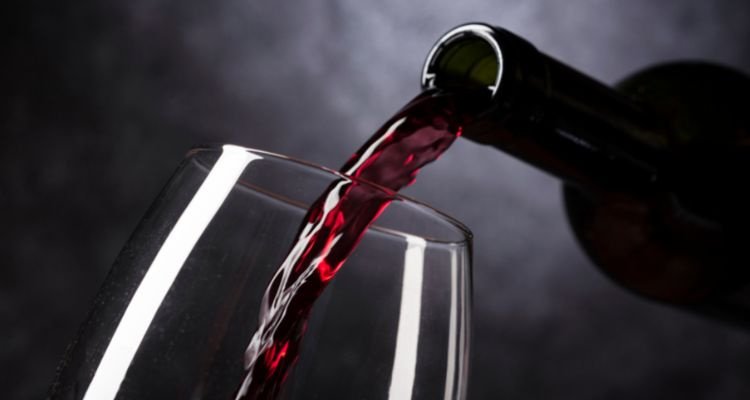 Fontina fonduta recipes
Valdostana Fontina Fonduta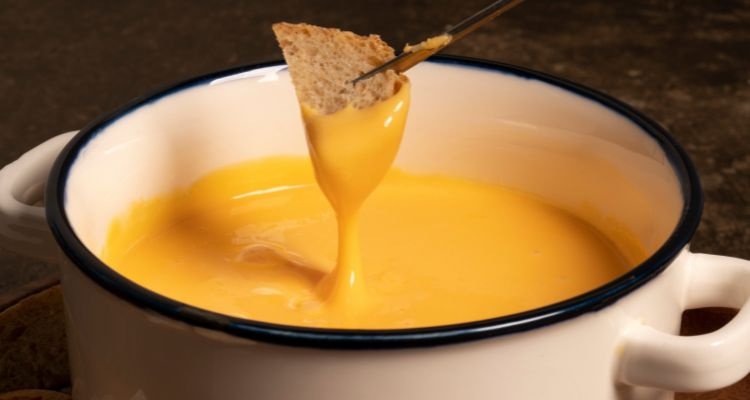 Ingredients


400 g of fontina
40 g of butter
4 egg yolks
200 ml of milk
Salt
White pepper
Slices of black bread
Method
First, remove the rind from the fontina cheese, cut it into thin slices, and put them in a bowl. Pour in the milk (the liquid must cover the cheese), and let it rest for an hour. Remove the fontina cheese from the milk and transfer it to a thick-bottomed saucepan.


Add the cold butter which is cut into pieces. Place the container in a double boiler and, while stirring constantly, let the cheese melt. At first, a compact mass is formed which will then slowly melt.


When the mixture has reached a creamy consistency, add one egg yolk at a time, stirring quickly. Leave it again in the double boiler for 2-3 minutes so that the mixture acquires its typical velvety appearance. At this point, you can decide whether to add a little milk from the soak to get more of the right consistency. Add some salt and season with just a pinch of pepper.


Remove and pour the fondue into warm bowls and serve with slices of toasted black bread on the side. It's better if the bread is kept warm and wrapped in a napkin.
Risotto with fontina fonduta

Ingredients


180 g of Rice
150 g of fontina cheese
100 ml of whole milk
150 ml of dry white wine
600 ml of vegetable broth
1 shallot
2 tablespoons of extra virgin olive oil
30 g of butter
30 g of grated Parmesan
Method


Finely chop the shallot and brown it in a pan. Toast the rice and blend it with 150 ml of white wine and add 2 chopped sage leaves. Cook the rice over medium heat by adding 2 ladles of broth and stirring occasionally. Add salt and pepper to taste, and continue adding broth ladles until the rice has reached the desired consistency.


In the meantime, prepare the fondue by cutting the fontina cheese into chunks and melting it in a saucepan together with the milk. Once the rice is ready, add the fondue and mix well.


Remove the rice from the heat and mix it with the butter and grated Parmesan and then serve your risotto with fondue on plates.
Polenta with Valdostana Fonduta

Ingredients


1 L milk
500 g cornmeal
400g fontina
1 egg yolk
Extra virgin olive oil
Salt
Method


Prepare the polenta: Add the flour little by little to 1.5 liters of boiling, slightly salted water. Add a spoonful of oil and mix from time to time with a whisk, cooking the polenta for 40-45 minutes. Then pour it into a bowl and let it rest for 30 minutes.


For the fontina fonduta: cut the cheese into small pieces and add them to the milk. After 30 minutes of rest, bring to a double boiler and melt the cheese. Blend the fondue with a mixer. With the heat off, mix in the egg yolk. Pour the polenta out onto a plate and cover it with the hot fondue. Serve it right away.
Tagliatelle with fondue and walnuts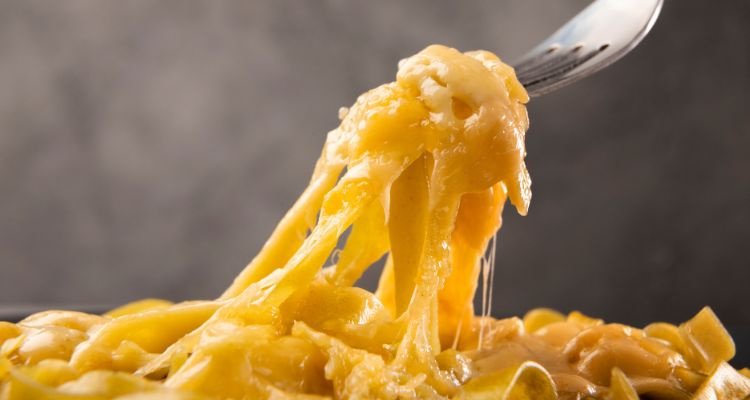 Ingredients


250 g egg pasta
2 egg yolks
100 ml of fresh cream
30g butter
200 g fontina cheese
400 ml whole milk
Nutmeg to taste
50 g walnut kernels
20 g Parmesan
Pepper to taste
Salt to taste
Method


Pour 400 ml of milk into a saucepan and slowly bring it to a boil. Meanwhile, roughly chop 200 g of fontina cheese and add it to the boiling milk with 30 g of butter. Season with a pinch of salt, a grind of pepper, and a grating of nutmeg.


Stir the mixture until the cheese has melted into the milk and then add 2 egg yolks one at a time while continuing to mix. Add 20 g of Parmesan, and 100 ml of cream and continue cooking over very low heat until a homogeneous fondue forms.


Boil 250 g of tagliatelle in boiling salted water, drain them once they've reached al dente, and divide them into 4 plates. Season with the fondue, sprinkle them with 50 g of chopped walnuts, flavor them with freshly ground pepper, and serve immediately.